Chicago Receives Federal Grants for BRT Service
- By Kevin Zolkiewicz
Chicago is set to receive two Bus Rapid Transit (BRT) corridors, following grants totaling $35.6 million awarded by the Federal Transit Administration this week.
One of the two BRT projects, known as the East-West Corridor of the Chicago Central Area Transitway, will be built by the Chicago Department of Transportation. The East-West Corridor would serve several CTA "L" stops, Union Station, Ogilvie Transportation Center, Streeterville, and Navy Pier.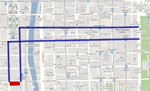 Map of proposed bus-priority lanes and transportation center for the East-West Corridor project. (click to enlarge)
Two miles of designated bus-priority lanes would be built along Canal and Washington for northbound routes and Madison and Clinton for southbound routes. Seven CTA bus routes, including routes 14, 20, 56, 60, 124, 157, and 125, would use all or most of the proposed alignment.
The plan also calls for signal priority for buses at key intersections, branded bus shelters, electronic "next bus" signage powered by Bus Tracker, sidewalk improvements, bicycle lanes, and a new transportation center just south of Union Station.
The second BRT grant, awarded to the Chicago Transit Authority, would resurrect previously-scrapped plans for BRT service along the Jeffery corridor. While specifics for the Jeffery Corridor BRT service have not been announced, previous plans called for dedicated bus lanes between 57th and 83rd Streets along Jeffery Boulevard.
Download Map of 2008 Jeffery Corridor BRT Plans (PDF)
In 2008, CTA was set to receive $135 million from the federal government that would have funded BRT pilot projects along the 79th, Chicago, Halsted, and Jeffery corridors. The funds were forfeited after the Chicago City Council missed a deadline to raise downtown parking garage rates in an effort to encourage transit use, one of the conditions of the funding agreement.