Claypool Talks BRT at Meeting With Local Bloggers
- By Kevin Zolkiewicz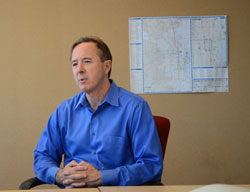 Yesterday, Chicago Transit Authority President Forrest Claypool sat down with representatives from local Chicago transportation blogs, including ChicagoBus.org, CTA Tattler, and Grid Chicago.
One of the key points discussed during the meeting was the CTA's plans for bus rapid transit (BRT). The CTA is currently in the early planning stages for BRT routes in the Central Loop, along with the Western and Ashland corridors. Later this year, the CTA intends to launch its first foray into Bus Rapid Transit along Jeffery Boulevard. But Claypool expressed reluctance in classifying the Jeffery Route as BRT.
"[Jeffery] is called bus rapid transit, although I don't like to call it BRT," Claypool said. "It's kind of a first stage, faster, hopefully more convenient service for riders in that area of the city that will incorporate some of the elements of BRT when it's fully implemented."
Claypool said that the CTA is looking forward to learning from the Jeffery route and incorporating those lessons into the planning processes for the Western and Ashland BRT corridors and the Central Loop BRT.
In discussing the importance of finding the right balance between cost and advantages for bus rapid transit, Claypool referenced Bogotá, Columbia's BRT implementation. "You can spend a fortune on the gold standard of BRT, like Bogotá, but if you were able to delivery 90% of the benefits of that type of service at a fraction of the cost, wouldn't you do it? Wouldn't you do it at more locations?"
In addition to BRT, Claypool discussed other plans to improve bus service systemwide. He referenced early stage studies on improving bus routes on both north and south Lake Shore Drive. Additionally, Claypool talked about working more closely with the Chicago Department of Transportation.
"I have had quite a few conversations with [CDOT] Commissioner [Gabe] Klein about not just bus rapid transit, but other short-term ways of doing experiments with dedicated bus lanes, even if it's just on portions of a busy street, like Western Avenue, for example," Claypool said. "I think ultimately some version, or versions, of bus rapid transit in various places around the city will go a long way towards making bus service a faster and more convenient mode of transportation."
Part Two: Claypool Looking to "Right the Financial Ship" at CTA